The Story of
Hanabi Lager
Reflecting an inclination toward the uncommon arts, Hanabi Lager brings a winemaker's agricultural perspective to brewing beers that reflect the place where human artistry intersects with nature.
We've brewed Hanabi Lagers for the enjoyment of fellow winemakers, mentors, and comrades for many years. We began brewing together in college, and Nick worked for several years at our local Boundary Bay Brewery, before moving to California to make wine. We continued brewing, assembling seasonal 'brewing parties' to supply shift pints to our fellow thirsty winemakers and explore the delicious flavors of various grain varieties in the process.
While we've experimented with many different styles of beer, our winemaking palates eventually led us to the traditional lagers from Germany and Czechia for their complexity, energy, and balance. For the last 10 years, we have focused exclusively on lager brewing, honing a style that's informed by traditional brewing methods, but heavily influenced by our winemaking philosophy, and intended to showcase the delicious flavors of grains.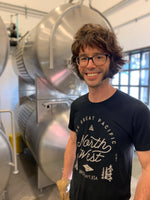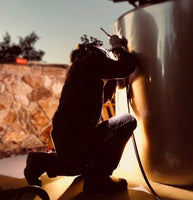 As our brewing endeavors grew, we considered how best to share our lagers with an ever-growing band of friends and family. On a post-harvest road trip in 2015, a very particular concept for Hanabi Lager Company took shape— one that felt authentic to our vision for the project. We would keep things small and personal, as our favorite human endeavors usually are, and we would brew seasonally, in a way that fits with the agricultural cycle of winemaking life. This is a labor of love for us in every sense, and our motto is to keep it fun. And true to our roots, we would assemble a craftsman-style workshop with equipment that we would design and build ourselves to suit the particular needs of our lager brewing approach.
So, Nick, along with fellow brewery engineer friend Jared, and world-class fabricator named Trevor, designed and built a custom, steam-fired, 5-vessel decoction brewhouse from scratch in those ensuing five years, that would allow us to do justice to the most interesting barley malts that we could find.
And what's in a name? Why Hanabi Lager? Among his peculiar passions, at age 12, Nick became an apprentice to a lifelong master fireworks builder and practitioner of traditional Japanese-style fireworks (hanabi) displays. Still deeply involved in the craft, today, Nick designs and directs one of the biggest Japanese-style displays in North America, which annually takes place on Lopez Island, Washington. Every year, we make the pilgrimage north to help bring this show to life.
The Japanese hanabi aesthetic has always resonated with us. Carrying a very different connation than fireworks do in the United States, there they evoke a deep cultural respect for the craft, and are named after natural phenomena such and flowers, trees, weather, and the cycles of life that they are meant to symbolize.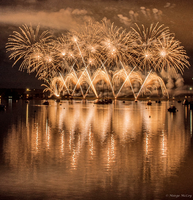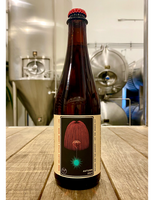 These three endeavors—brewing lager, crafting traditional fireworks, and winemaking—are bound by a common thread. We are working with nature as a partner in human artistry, embracing the ephemeral, coaxing out the underlying patterns and rhythms that turn us on. The imagery of hanabi, like the antique paintings from which our labels are inspired, represent the essence of the feeling to us.
Through Hanabi, we hope to approach lager brewing from a perspective that ultimately brings more attention to the agricultural roots of brewing, and elevates the notion of what can be achieved with these four noble ingredients: barley, hops, yeast, and water.
We look forward to sharing this adventure with you.
All Good Things,
Nick Gislason, Jennifer Angelosante, and the entire extended Hanabi Family