Inspired by
History and Tradition
For the uninitiated, lager is a traditional beer fermented at low temperature by the yeast Saccharomyces pastorianus. These yeasts are believed to be the love children of a cold-hardy Saccharomyces native to the Patagonian Andes, who mysteriously met with established ale fermenting microflora within ancient brewery caves in Bavaria. Although the story of how this might have happened some 500 years ago has been sewn into the wilderness of history, these wild lager yeasts took residence in the wooden fermentation vats of the Bavarian Alps, and a highly localized lager brewing tradition quietly developed around them in Germany and Bohemia over a period of several hundred years.
Then, in the late 1800s, lager brewing suddenly flared to life and spread throughout the world. These yeasts were fermenting beers that people just couldn't resist. Very different in character than the opulent, strongly flavored, fruity ales of the time, they instead offered something much more subtle, crisp, and deeply enticing. These are beers that resonate with our palates.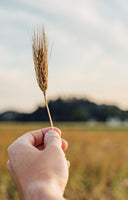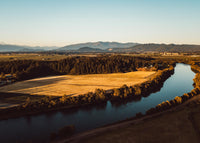 Our mission at Hanabi Lager is to use traditional lager brewing methods to showcase the unique character of different barley varieties. As a part of our fabric, we partner with small farms and work alongside a dedicated group of bakers, chefs, and maltsters who are driving a grains renaissance, by championing flavor and wholesomeness over high yields and ease of use. We are working to discover the delicious flavors of long-forgotten heritage barley varieties, along with contemporary ones, through the incredibly pure and transparent lens of lager.