Hanabi Lager
Haná Pilsner Style Lager Beer
This special Hanabi beer features an heirloom grain variety named Haná that was originally used by Josef Groll to brew the world's first Pilsner in 1842, in the city of Pilsen, in present day Czechia. Brought back from near extinction by British farmers in 2015, we source it from one of the only fields in the world where it can be found today, in Norfolk, England. Our Haná Pilsner is the rhythm section of our brewery and will be produced year-round. It represents the core of our house approach and style. Presented as a Pilsner style lager, this heritage barley brings aromatic notes of fresh wholegrain bread, nori, and dried spearmint, along with a long, fresh finish.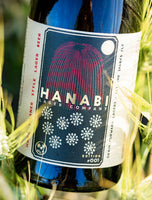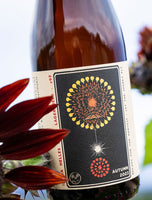 Autumn 2023 Edition Hanabi Lager
Isaria Helles Style Lager Beer
This beer showcases a century-old heirloom variety of barley named Isaria that originates from southern Germany, a rarity in the contemporary brewing landscape. As is typical with heirloom varieties, it imparts a unique aroma and flavor profile, along with a substantial mid-palate weight for a lighter style of beer. Brewed as a Helles Style lager, the Isaria barley produces a beer with a distinct hazelnut character, complex forest aromatics, and a minty, lifted finish.
Summer 2023 Edition Hanabi Lager
Purple Egyptian Helles Style Lager Beer
This beer features an exceptionally rare ancient grain called Purple Egyptian that was discovered growing along the headwaters of the Nile River. It is named for the glassy purple-black color of its corns. In collaboration with Palouse Heritage, the only grower in the US cultivating this historic variety, this beer was produced from grain grown in Washington and California. We believe that this is the first lager beer ever produced from this historic heirloom grain. Brewed as a Helles Style lager, the Purple Egyptian barley produces a beer with cheerful dried stone fruit aromas balanced by notes of spicy peppermint and a flinty mineral backbone.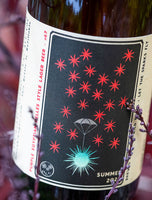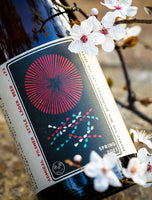 Spring 2023 Edition Hanabi Lager
Admiral Pilsner Style Lager Beer
This beer features local, California Grown barley that comes from a farm just an hour up the road from the brewery. It was sprouted (malted) using traditional "floor-malting" methods by Admiral Maltings in Alameda. They are the only maltster in California using this technique, and one of the few in the entire country. When the sprouted barley seeds are dried and lightly toasted in their kiln, they come out fragrant and delicious. From there they go straight into our kettles at the brewery to capture the fresh essence of the grains, like bread straight out of the oven. Brewed as a Pilsner style lager, the Admiral barley aromatics are bright and expressive, bringing notes of sweet hay, perfumy lemons, white tea leaves, and a granitic minerality.
Autumn/Winter 2022 Edition Hanabi Lager
Chevallier Helles Style Lager Beer
Chevallier was the first heirloom barley variety that we ever had the opportunity to work with, in 2014, and it opened our eyes to new possibilities of flavor in beer. Our experiences with it ultimately led us to develop our grain-forward style of brewing, to showcase the delicious and wide-ranging flavors that special grains can bring to beer. The Chevallier barley for this release was sourced from Norfolk, England, from the only field in the world where this 200-year-old variety is grown today. Brewed as a Helles style lager, it is intensely aromatic, balancing power with levity, and bringing notes of cedar, hazelnuts, fresh honeycomb, and peppermint.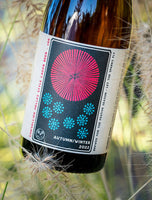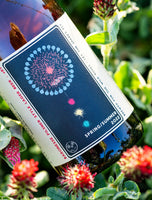 Spring/Summer 2022 Edition Hanabi Lager
Baronesse Pilsner Style Lager Beer
This season's beer features a barley variety named Baronesse that we sourced from Joseph's Grainery, a 5th generation family farm in the Palouse region of Washington State. Baronesse is originally a German variety that was largely abandoned there due to its lower yields than some other 'higher performance' barleys. After declaring it the 'most delicious barley he had ever tasted', however, farmer Bill Myers has championed Baronesse for years, and to our knowledge, his is the only farm growing it in North America. Brewed as a Pilsner style lager, it brings notes of fresh hay, alfalfa, dried chamomile florals, and a wet stones minerality.
Winter 2021 Edition Hanabi Lager
Bohemian Pilsner Style Lager Beer
Our Winter 2021 offering is a classic example of the pleasures that the Pilsner style can afford: an inviting richness and palate weight that is balanced by a vibrant freshness and long, lifted finish. Bright cereal grains dominate the aromas, with an herbal mintiness from the hops, and a wet stones minerality that brings focus. The barley that we used is a variety named Bojos (pronounced boh-yos) sourced from Pivovar Ferdinand near Prague in Czechia.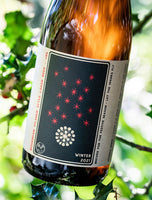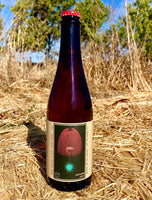 Autumn 2021 Edition Hanabi Lager
Bere Helles Style Lager Beer
Bere (pronounced like bear) is believed to be the oldest commercially grown variety of brewing barley in the world, having been cultivated for at least 5,000 years in the cold reaches of the Orkney Islands. We sourced it for this special Hanabi brew from the Palouse Heritage Grain farm in Washington State. The flavor of Bere reveals its origins as a semi-wild cereal grain with small, intensely flavored berries. We brewed an aromatic Helles-style lager with it, to showcase the delicious and unique character of the grains. Bere brings a substantial, round midpalate, and a balancing richness to this light and refreshing style of beer, along with a crisp, mineral finish. The aromatics are yellow-fruited and distinct; fresh sweet corn and cereal, vibrant, and lightly herbal, with subtle earthy elements reminiscent of conifer forest.
Summer 2021 Edition Hanabi Lager
Francin Helles Style Lager Beer
Francin (pronounced FRANCE-in) is a variety of springtime barley, grown very near our original homeland of the San Juan Islands, in Washington State. The barley fields literally abut the ocean, and these pure, maritime growing conditions help develop a floral and sweet-hay-like character in this barley. Along with these characters also comes an oceanic minerality, reflective of the fields that it came from, where the ocean meets the Skagit Valley. Wanting to honor the nuances of this delicious grain, we brewed a style of lager called Helles (pronounced HELL-us) that we feel provides the clearest lens straight to the grain itself. While difficult and unforgiving to make, owing to its subtlety, it offers an honest expression of the grain, in the truest sense.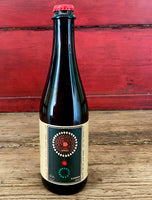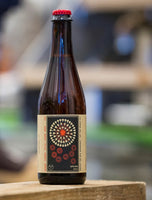 Spring 2021 Edition Hanabi Lager
Barke Vienna Style Lager Beer
Barke is a particularly flavorful variety of springtime barley, grown in the German states of Saxony and Thuringia, and is used for brewing traditional styles of lager there. This barley brings strong aromatics and power, while at the same time an openness and sense of levity. We brewed a Vienna-style Lager with it, a slightly more malt-forward style than Pilsner, to lean into this barley's natural strengths. This approach produces a rich golden-colored lager beer with a light natural turbidity that we prefer to leave intact as a signature of this delicious grain, and a persistent cream-colored, fine-grained head. Opening with highly aromatic sweet-straw, spearmint, baking spices, and warm cedar, overtones of fresh spring earth come up, bringing a sense of vitality and vibrancy. With a strong mid-palate and a powerful initial approach, the beer transitions into a very fresh, long finish. 
Winter 2020 Edition Hanabi Lager
Bohemian Pilsner Style Lager Beer
This beer uses a traditional Czech variety of barley called Bojos (pronounced "Boh-yos"), that is known for lending a pleasing balance of richness and round texture with freshness and levity. We used it to brew a Bohemian-style Pilsner, which underwent extended lees contact during a long, cold fermentation to develop texture and depth, a beer that balances richness and hay-like, grainy, and minty aromatics with freshness and verve. Highly aromatic cereal grain aromas, hay, river-rock minerality and earthy elements bring complexity. Lightly herbal, dried minty overtones bring lift and focus, and the palate pulls tension between upfront weight and a long dry finish.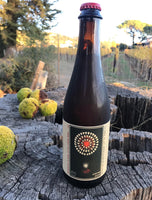 Autumn 2020 Edition Hanabi Lager
Francin Pilsner Style Lager Beer
This first batch of Hanabi Lager is a Pilsner-style lager that we brewed with a spring barley called Francin, which was grown in Skagit Valley, Washington, close to the San Juan Islands where we grew up. This barley loves it there next to the ocean…And so do we.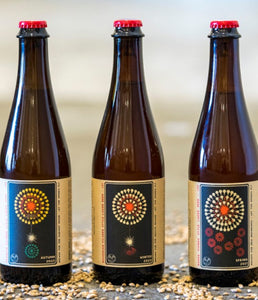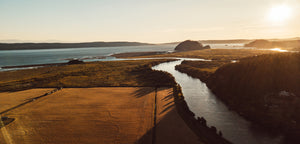 We feel that the most pleasure will be derived from our beers in the first 9-12 months after release. They are not a style that is intended for long-term aging, although they will evolve well during the first year. Store between 36 and 55 degrees Fahrenheit and serve refrigerator-cold (they can always warm up in the glass if you prefer).