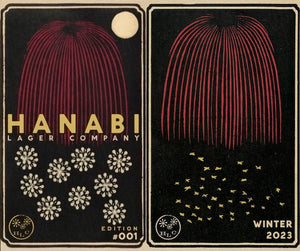 Includes 6 bottles each of our latest seasonal release and our flagship Haná Pilsner. 
Haná Pilsner - This beer features an heirloom grain variety named Haná that was originally used to brew the world's first Pilsner. Brought back from near extinction by British farmers, we source it from one of the only fields in the world where it can be found today, in Norfolk, England. Our Haná Pilsner is the rhythm section of our brewery and is produced year-round. It represents the core of our house approach and style. Presented as a Pilsner style lager, this heritage barley brings aromatic notes of fresh wholegrain bread, nori, and dried spearmint, along with a long, fresh finish.
Winter 2023 Hanabi Lager - This beer features local, California Grown Feldblume barley. It was sprouted (malted) using old-fashioned "floor-malting" methods by our close partner, Admiral Maltings, in Alameda, California. When the sprouted barley seeds are dried and lightly toasted in their kiln, they come out fragrant and delicious, and we work quickly to capture this delightful essence with our Hanabi Lager brewing process. Brewed as a Pilsner style lager, the Feldblume barley brings notes of local tree herbs (eucalyptus, bay, and pine), dried meadow flowers, peppermint, candied orange peel, and wet crushed shale.
CA Shipping Rates:
$15 per case
Free local delivery