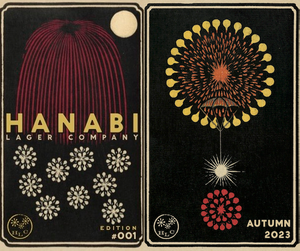 Includes 6 bottles of Haná Pilsner and 6 bottles of our current seasonal release.
Haná Pilsner - This beer features an heirloom grain variety named Haná that was originally used to brew the world's first Pilsner. Brought back from near extinction by British farmers, we source it from one of the only fields in the world where it can be found today, in Norfolk, England. Our Haná Pilsner is the rhythm section of our brewery and is produced year-round. It represents the core of our house approach and style. Presented as a Pilsner style lager, this heritage barley brings aromatic notes of fresh wholegrain bread, nori, and dried spearmint, along with a long, fresh finish.
Autumn 2023 Hanabi Lager - This beer showcases a century-old heirloom variety of barley named Isaria that originates from southern Germany, a rarity in the contemporary brewing landscape. As is typical with heirloom varieties, it imparts a unique aroma and flavor profile, along with a substantial mid-palate weight for a lighter style of beer. Brewed as a Helles Style lager, the Isaria barley produces a beer with a distinct hazelnut character, complex forest aromatics, and a minty, lifted finish.
CA Shipping Rates:
$15 per case
Free local delivery