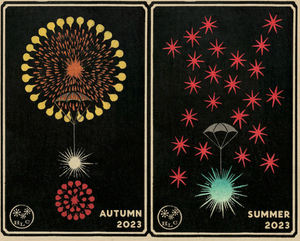 Includes 6 bottles each of our two latest seasonal releases.
Autumn 2023 Hanabi Lager - This beer showcases a century-old heirloom variety of barley named Isaria that originates from southern Germany, a rarity in the contemporary brewing landscape. As is typical with heirloom varieties, it imparts a unique aroma and flavor profile, along with a substantial mid-palate weight for a lighter style of beer. Brewed as a Helles Style lager, the Isaria barley produces a beer with a distinct hazelnut character, complex forest aromatics, and a minty, lifted finish.

Summer 2023 Hanabi Lager - This beer features an exceptionally rare ancient grain called Purple Egyptian that was discovered growing along the headwaters of the Nile River. It is named for the glassy purple-black color of its corns. In collaboration with Palouse Heritage, the only grower in the US cultivating this historic variety, this beer was produced from grain grown in Washington and California. We believe that this is the first lager beer ever produced from this historic heirloom grain. Brewed as a Helles Style lager, the Purple Egyptian barley produces a beer with cheerful dried stone fruit aromas balanced by notes of spicy peppermint and a flinty mineral backbone. 
CA Shipping Rates:
$15 per case
Free local delivery